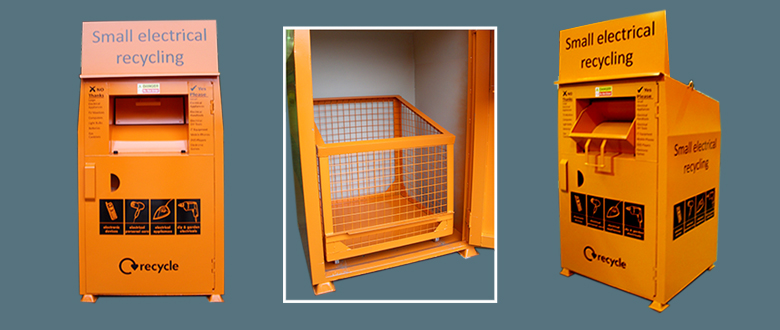 Waste Electrical and Electronic Equipment Banks
Led by customer demand and responding to government directives, Metal Masters have designed and developed a Waste Electrical and Electronic Equipment (WEEE) Recycling Bank that is based on our market leading clothing banks.
Utilising the new scoop chute for the collection of small electrical appliances the WEEE banks boast all the attributes of our textile recycling banks that include a full length door that virtually eliminates all theft through the chute and is secured with a vandal proof lock.
The WEEE bank comes with one coat of primer inside and out and is finished with one top coat of any colour from the B.S. range. The banks are complimented by an attractive "Banner Plate" and logo package to your design.
The Metal Masters WEEE banks contain a robust collection cage that can be effortlessly removed and loaded into the bank for ease of use.
How WEEE Recycling Banks Can Help the Environment
Throughout the UK each year, electronic products are purchased in their millions, and over 75% of these items end up in council landfill sites. An awful lot of these items could have been repaired or recycled. Many more electrical appliances could have been broken down to their core materials and reused in new products.
The Waste Electrical and Electronic Equipment (WEEE) directive came into force in January 2007 to help encourage the recycling of electrical and electronic products that would otherwise end up in landfill sites. The directive stipulated that manufacturers and suppliers of electrical goods adhere to regulations regarding responsibility for the items that they produce.
Since July 2007, they have had to implement procedures to take back unwanted electronic products or sign up to a Producer Compliance Scheme to cover the costs of their disposal.
Metal Masters have reacted to the directive by designing and manufacturing a WEEE recycling bank that draws on our expertise and experience gleaned from over forty years in the fabrication industry.
Metal Masters guarantee is to produce quality workmanship at realistic prices and we will deliver to anywhere in the UK and Republic of Ireland.
For an informal enquiry with absolutely no commitment you can call us on 01384 76687, email us by clicking here or simply fill out the contact form here, you will not be disappointed with our quality recycling banks and service.
Metal Masters can be found in the heart of the Black Country, with easy access from the M5, M6 and M42 motorways. Find us on Google Maps by clicking here.